'The Ultimate Guide to surviving the first semester at ISU'  
The iBook is published and available for download on iTunes store. You can download the iBook on the following link:  https://itunes.apple.com/us/book/ultimate-guide-to-surviving-your-first-semester-at/id1364951058?mt=11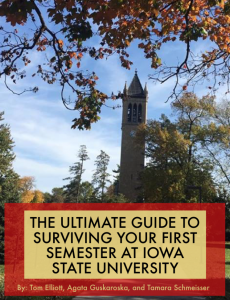 "The Ultimate Guide to Surviving your First Semester at Iowa State" is an interactive multimedia iBook created for new Iowa State University students. Inspired by the authors' own experiences and challenges as new graduate students, it was designed to assist new students with the struggles they may encounter during the first semester.  It provides information about academic resources, everyday living needs, and emotional support for difficult times. It was designed to provide welcoming and supportive guidance in an accessible format, and remind new students that they are not alone in their struggles.
While ISU's website provides many resources, new students sometimes struggle to find all the information they need due to the breadth and complexity of the materials. This interactive electronic book offers impactful innovation as it bridges this information access gap by providing all of these resources in a convenient package with a straightforward user interface, available for use on both computers and mobile devices.  In doing so, we believe this resource can improve academic outcomes, increase quality of life, and ultimately increase retention rates of new students at ISU.
After a humorous introductory video depicting "A Day in the Life of a New Student",  the book lays out its resources in three chapters. The first, "Things We Wish We Knew in our First Semester", presents important practical advice, including how to navigate Ames and the ISU campus, finding living resources such as groceries, accessing academic and legal resources, and other essential tools for a smooth start.  It includes interactive elements, including video tutorials for using Google Maps and clickable hyperlinks offering direct access to the resources described.
The second chapter, "Surviving the emotional breakdown", offers tips and resources to help new students cope with the emotional challenges of their new experiences. Included are interviews with graduate students and professors about their own experiences as new students, with advice offered to those embarking on the same journey.  
The final chapter offers resources for Iowa State's many international students.  Information is included about the International Students and Scholars Office, and advice is offered about dealing with culture shock, adapting to American culture, and understanding surprising or confusing aspects of life on an American college campus.
This interactive, portable, and user-friendly resource is an excellent tool for new students, enhancing the welcoming, supportive atmosphere Iowa State strives to provide, and furthering the Land Grant ideals on which the university was founded.